The Chronicles of T.A.C..T. 48 - October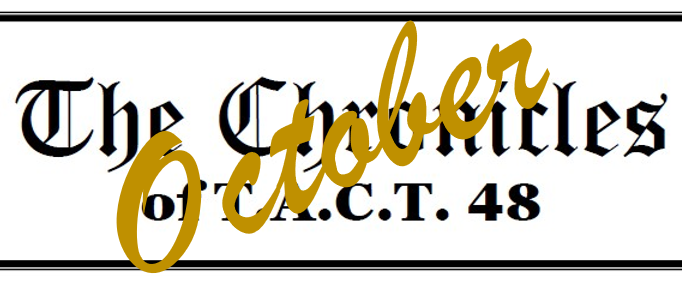 Who Covers the Cost for Biohazard Remediation?
When faced with an unfortunate biohazard involving a blood spill from a crime, suicide, or an undiscovered death, one of the first concern may be, "how are we going to pay for this?". What most people don't know is that in most cases property insurance – both home or auto – covers the cost of the remediation. This can be a great relief as it is an unexpected event and can be quite costly to properly remediate. When using the insurance policy, typically the owner is then only responsible for their deductible amount.
When renting a property though, things can get a bit trickier as to who is responsible. Typically, a renter's insurance policy will not cover anything associated with the property but covers a person's personal belongings. So, who is responsible if the flooring, sub-flooring or walls that are affected by a biohazard? From our experience, ultimately the responsibility for cleaning up the rental property typically falls on the landlord because they have a legal obligation to ensure the safety and habitability of the rental properties itself. A reasonable landlord would not want to rely on someone without professional experience to remediate these situations because, if not done properly, an unhealthy living arrangement could be left for current or future tenants and thus cause a potential legal issue for them in the future. For a more in-depth details associated on landlord responsibilities, see our blog: Understanding Biohazard Cleanup: Who Covers the Cost in Rental Properties?
Obviously, each situation is unique. Contact T.A.C.T. 48 when faced with such an issue and use our expertise on who and how the costs can be covered.
Amazing October Events
A special thank you to everyone behind the scenes at the events that we where honored to sponsor and attend this month with the Southern Arizona Law Enforcement Foundation (SALEF), Arizona Public Risk Management Association (PRIMA), and the 100 Club of Arizona.
Tis the Cold and Flu Season – Or Is It Something More
As with every fall season, the flu and common cold will be upon us but in these unprecedented times, we don't want to suddenly put our guard down and start to think that COVID-19 has been eliminated. A study by the Centers for Disease Control and Prevention (CDC) found that regular cleaning and disinfection can help prevent the spread of respiratory illnesses, including COVID-19. If you have a surge of illnesses in your place of business or community, you may need more than a standard cleaning. Know that T.A.C.T. 48 provides professional virus decontamination and sanitization services for you to stop the spread.
Latest news

The Chronicles of T.A.C.T. 48 January
- T.A.C.T. 48 Joined the Arizona Multihousing Association (AMA) Maintenance Mania 2023 - Birthing a baby in the front seat of your car requires proper biohazard remediation to return car to a safe environment
Read More
The Chronicles of T.A.C.T 48 - February
Some highlights of this The Chronicles of T.A.C.T. 48 - February edition: - T.A.C.T. 48 has become a recognized vendor for the City of Scottsdale - T.A.C.T. stands for Trauma And Casualty Team but we our determined to provide Thoughtful and Compassionate Treatment - What is an Adenosine Triphosphate (ATP) test
Read More