Rules of Road – Made for Everyone's Safety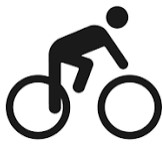 A recent incident that T.A.C.T. 48 was called out on involved an unfortunate encounter between a car and bicyclist. It is so important to be vigilant in paying attention to your surroundings when on city streets.
In Arizona, it is legal for bicycles to ride in the traffic lanes, as long as they adhere to the same street laws as motorists. The Arizona Department of Public Safety gives some reminders for both motorists and bicyclists alike.
https://www.azdps.gov/safety/bicycle
For Cyclists
Follow lane markings

Check for oncoming traffic

Ride defensively on the road

Be visible and be seen

Ride on the right side of the road

Obey traffic control devices (signs, signals, lane markings)
For Motorists
Drive cautiously

Yield to cyclist

Be considerate

Pass with care

Watch kids on bikes!!! T

hey don't yet know and follow traffic laws
Latest news

The Chronicles of T.A.C.T. 48 January
- T.A.C.T. 48 Joined the Arizona Multihousing Association (AMA) Maintenance Mania 2023 - Birthing a baby in the front seat of your car requires proper biohazard remediation to return car to a safe environment
Read More
The Chronicles of T.A.C.T 48 - February
Some highlights of this The Chronicles of T.A.C.T. 48 - February edition: - T.A.C.T. 48 has become a recognized vendor for the City of Scottsdale - T.A.C.T. stands for Trauma And Casualty Team but we our determined to provide Thoughtful and Compassionate Treatment - What is an Adenosine Triphosphate (ATP) test
Read More