Why Can't I Just Clean It Myself?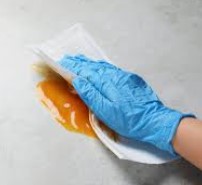 One of the more frequent questions we get asked about when they hear that we are in a biohazard remediation business is, "can't someone just clean that up themselves?". Usually this comes from a person that has never had the need for a biohazard clean-up and/or never knew the services even existed in the first place.
Biohazard remediation, particularly in cases of large blood spills and decomposition, is a task that should be handled by professionals for five important reasons:
Health and Safety: Decomposition can present significant health risks due to the release of hazardous pathogens, bacteria, viruses, and odors. Professionals, like T.A.C.T. 48, are trained in biohazard remediation and have the necessary knowledge, experience, and protective equipment to safely handle and dispose of biohazardous materials. We follow strict protocols to minimize the spread of contaminants and protect themselves and others from potential infections and illnesses.

Proper Cleanup and Restoration: Decomposition can cause extensive damage to the affected area, including structural damage, staining, and odor penetration. T.A.C.T. 48 technicians are equipped with specialized tools, cleaning agents, and techniques to effectively clean, sanitize, and restore the affected space. They ensure that all traces of decomposition are properly removed, eliminating health risks and restoring the area to a safe and habitable condition.

Legal Compliance: In many jurisdictions, there are regulations and guidelines regarding the handling and disposal of biohazardous materials. As professionals, we are knowledgeable about these regulations and ensure compliance with local, state, and federal laws. We also understand the importance of documenting and properly disposing of biohazardous waste, preventing legal issues and potential fines.

Prevention of Cross-Contamination: Improper handling or inadequate cleanup of decomposition can lead to cross-contamination, spreading pathogens and odors to other areas of the property. T.A.C.T. 48 technicians are skilled in containing the affected area, implementing proper decontamination protocols, and preventing the spread of contaminants. This helps protect unaffected areas and ensures that the remediation process is thorough and effective.

Emotional Support and Sensitivity: This is one of the most important reasons that we at T.A.C.T. 48 do what we do. Dealing with a large blood spill and/or decomposition and its aftermath can be emotionally challenging for those affected, whether it's a family member, property owner, or business owner. We are trained to provide compassionate and sensitive support during the process. We understand the distressing nature of the situation and approach it with empathy and professionalism, helping to alleviate some of the emotional burden.
In summary, professional biohazard remediation is crucial to ensure the health and safety of individuals involved, proper cleanup and restoration, compliance with regulations, emotional support, and prevention of cross-contamination. It is a specialized task that requires expertise, training, and adherence to strict protocols to mitigate risks and restore affected areas to a safe condition. If you ever question if you need the service or not, please call us at (480) 740-6868 and we can discuss your specific situation with you.
Latest news

The Chronicles of T.A.C.T. 48 January
- T.A.C.T. 48 Joined the Arizona Multihousing Association (AMA) Maintenance Mania 2023 - Birthing a baby in the front seat of your car requires proper biohazard remediation to return car to a safe environment
Read More
The Chronicles of T.A.C.T 48 - February
Some highlights of this The Chronicles of T.A.C.T. 48 - February edition: - T.A.C.T. 48 has become a recognized vendor for the City of Scottsdale - T.A.C.T. stands for Trauma And Casualty Team but we our determined to provide Thoughtful and Compassionate Treatment - What is an Adenosine Triphosphate (ATP) test
Read More