What Is Crime Scene Cleaning?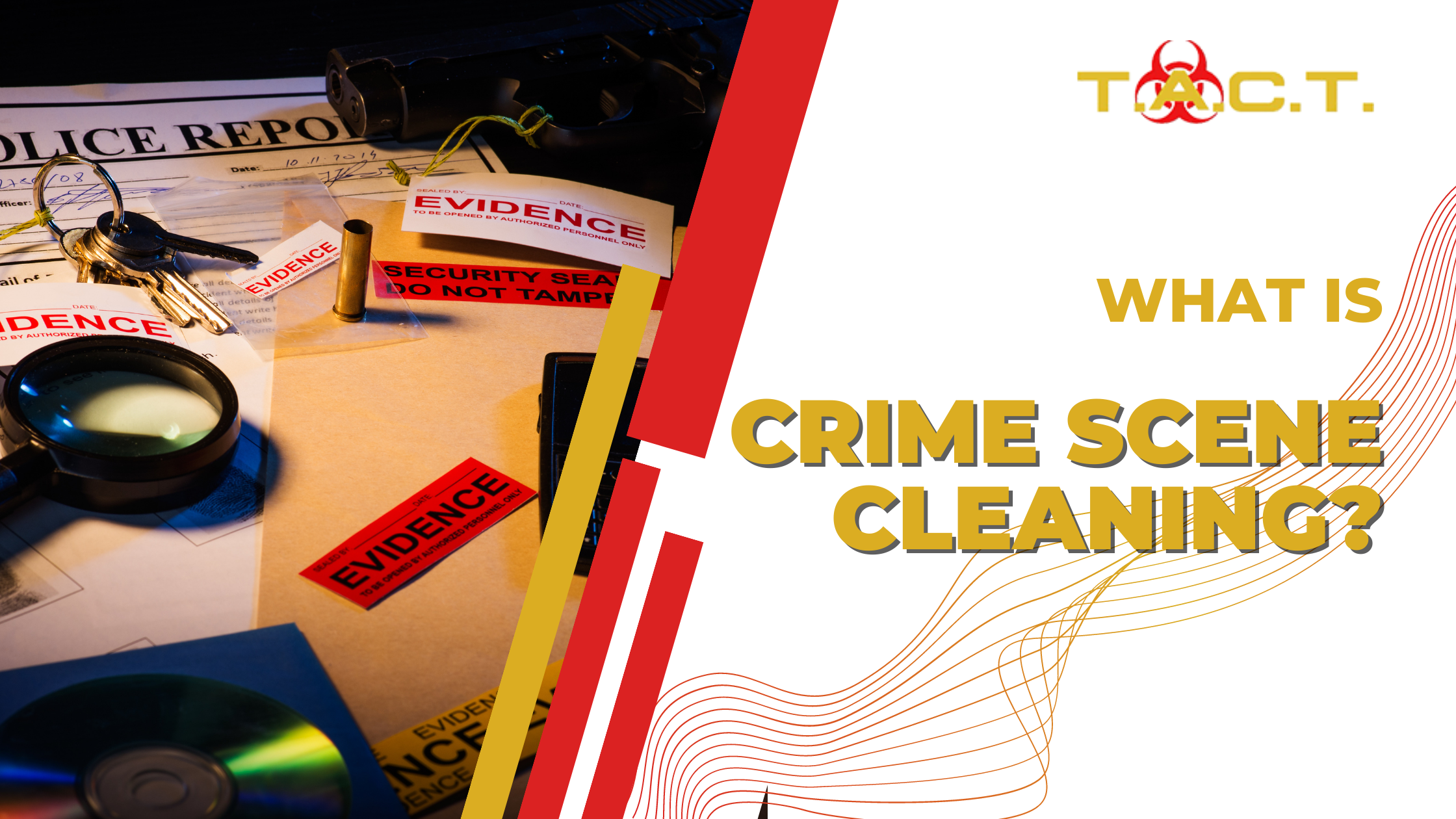 Crime scene cleanup is a specialized type of cleaning that involves the removal of hazardous materials and biohazardous waste, such as blood and bodily fluids, from a crime scene. This type of cleaning is typically done by trained professionals who have experience in handling hazardous materials and who are able to work in these types of situations.
Crime scene cleanup is usually needed following any type of violent crime, including homicides, suicides, and accidents. In many cases, a cleanup crew is called in after the police have finished their investigation of the scene. The crew is responsible for cleaning up any biological or chemical hazards that may be present, such as blood, bodily fluids, and hazardous chemicals.
The Cleanup Process
The cleanup process typically involves several steps. The first step is to safely remove the bio-hazardous materials from the scene, such as blood, tissue, or other biological fluids. This is done using specialized equipment and protective gear, such as respirators and hazmat suits, to prevent exposure to hazardous materials.
Once the biohazardous waste has been removed, the cleanup crew thoroughly cleans and sanitizes the affected area using a variety of specialized cleaning products and techniques. This includes cleaning all surfaces, including floors, walls, and ceilings, and ensuring that any remaining biological or chemical hazards have been properly removed. This may also include outdoor areas or vehicles.
One of the biggest challenges in crime scene cleanup is ensuring that all hazardous materials have been properly removed and that the area is completely safe for people to enter. This requires a high level of attention to detail and a thorough understanding of the types of hazards that may be present at the scene.
In addition to the physical cleanup process, crime scene cleanup crews must also be sensitive to the emotional impact of the situation on the victim's family and loved ones. They must be respectful and compassionate while working to clean up the scene, and they must do their best to minimize any further emotional trauma that may result from the cleanup process.
It's a difficult job, but TACT is prepared to do it
While crime scene cleanup is a difficult and often emotionally challenging job, it is a necessary job that needs done properly. By cleaning up crime scenes quickly and thoroughly, cleanup crews help to ensure that the scene can be released back to the community and that people can begin to move on from the trauma of the incident.
In many cases, crime scene cleanup is covered by insurance, which means that the cost of the cleanup can be significantly reduced or even completely covered, depending on your policy. This is an important consideration for families who are already dealing with the emotional and financial aftermath of a violent crime.
Contact TACT 48 For Crime Scene Cleaning
Overall, crime scene cleanup is an important and challenging job that requires a high level of skill and expertise. T.A.C.T. 48 is a Phoenix-based Trauma and Casualty Team of experienced professionals who are trained to handle hazardous materials and to work in emotionally difficult situations. We work with law enforcement, city governments, businesses and residents in Phoenix, providing suicide cleanup, undiscovered death cleanup, crime scene cleaning and odor removal services. TACT is locally owned and operated and is available to assist you 24/7. If you are dealing with having to clean up following a traumatic event, call T.A.C.T 48 Trauma and Casualty Team to help 24/7 at (928) 723-1332. Learn more about us on our website at https://www.tact48.com/.
Latest news

The Chronicles of T.A.C.T. 48 January
- T.A.C.T. 48 Joined the Arizona Multihousing Association (AMA) Maintenance Mania 2023 - Birthing a baby in the front seat of your car requires proper biohazard remediation to return car to a safe environment
Read More
The Chronicles of T.A.C.T 48 - February
Some highlights of this The Chronicles of T.A.C.T. 48 - February edition: - T.A.C.T. 48 has become a recognized vendor for the City of Scottsdale - T.A.C.T. stands for Trauma And Casualty Team but we our determined to provide Thoughtful and Compassionate Treatment - What is an Adenosine Triphosphate (ATP) test
Read More