The Chronicles of T.A.C.T 48 - August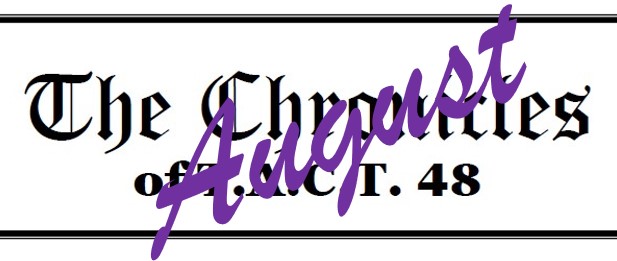 2023 T.A.C.T Annual Conference
I think everyone would agree that a company that stays stuck in their ways will eventually be left behind. That's not us at T.A.C.T. 48! We are constantly on the lookout for ways that we can improve in our techniques, skills, and community outreach. This month, we were able to get together with other T.A.C.T. franchises from around the country to collaborate and learn from one another so we can service our community here in Arizona even more.
This year's conference was held in St. Louis, MO. It was a pleasure to have some detectives come in and educate us on some of the issues in the biohazard field that are on the rise and how we can protect our teams and community better. We also learned of new techniques and equipment to implement in the near future to remediate areas with even more procession to safeguard our clients.
Matt Lovasz presented multiple awards to well deserving franchises including Franchise of the Year to Brett Ellis with T.A.C.T. NWA of Arkansas, the Keep Fighting award to Wes Sagendorph of T.A.C.T. Houston, The Vanguard Award to Bo and Terry Martin of T.A.C.T. North Atlanta and to Reggie and Anikka Jackson of T.A.C.T. PWC in Northern Virginia. T.A.C.T. 48 was honored to be presented with three awards: The Rookie of the Year, The Golden Goose, and The Vanguard Award. We are sincerely grateful to be a part of the T.A.C.T. franchise where we are surrounded by other disciplined and caring members whose focus is on the needs of our clients and respective communities.
AMA's 31st Annual Tribute Awards
The Arizona Multihousing Association (AMA) Tribute Awards is one of their largest events of the year, where they come together to honor leasing and management professionals. Each winner was chosen based on their commitment and experience in their fields. We were honored to be able to attend and meet some amazing individuals at the after party.
Congratulations to all the winners!
The Risk of
Just Hosing It Down
When individuals see the detailed work that T.A.C.T. 48 does in remediating outdoor biohazardous areas they are amazed. We are often told that they thought we would "just hose it down". While well meaning, this method would not be in the public's best interest. For one thing, hosing it down could allow pathogens or contaminates to become airborne and potentially infect individuals nearby. Additionally, the force of the water can spread the biohazardous material to a wider area, increasing the risk of contamination. Improper containment and disposal of wastewater can lead to environmental contamination and pose a threat to public health. It is crucial to follow safety protocols and use the proper chemicals to treat and dispose of biohazardous materials. If you are ever in need, contact T.A.C.T. 48.
Latest news

The Chronicles of T.A.C.T. 48 January
- T.A.C.T. 48 Joined the Arizona Multihousing Association (AMA) Maintenance Mania 2023 - Birthing a baby in the front seat of your car requires proper biohazard remediation to return car to a safe environment
Read More
The Chronicles of T.A.C.T 48 - February
Some highlights of this The Chronicles of T.A.C.T. 48 - February edition: - T.A.C.T. 48 has become a recognized vendor for the City of Scottsdale - T.A.C.T. stands for Trauma And Casualty Team but we our determined to provide Thoughtful and Compassionate Treatment - What is an Adenosine Triphosphate (ATP) test
Read More