Lexy Romano of AZTV 7 News Interviews T.A.C.T. 48 Owner, David Lesaffre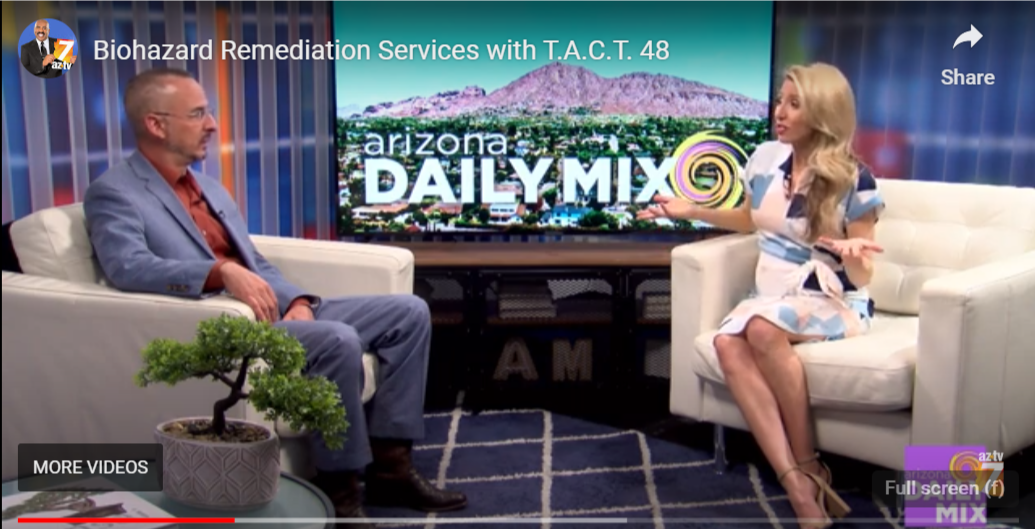 Lexy Romano from AZTV 7 News recently interviewed T.A.C.T. 48 owner, David Lesaffre about the types of situations the Arizona-based biohazard remediation company takes care of. Anytime a family is dealing with the loss of a loved one after suicide, homicide, undiscovered death, or an accident, T.A.C.T. 48 is the company that comes in to clean up.
Lesaffre strongly believes that your last memories of a loved one should not be of cleaning up after a traumatic event, which is why it is important to get in touch with professionals, such as T.A.C.T. In addition to the emotional and physical toll this type of event has on families, there are also safety issues to take into consideration. Blood and other bodily fluids are considered biohazards. Specific protocols must be followed during the clean up in order to return the area to a safe, livable environment. Additionally, the waste must be disposed of properly so that it does not pose a threat to the community or environment.
T.A.C.T. has highly trained and certified technicians, as well as all of the proper gear and equipment needed for clean up of biohazardous materials. What many people may not even realize is that, in a lot of cases, insurance actually covers the cost of the clean up services, meaning the family does not have to come up with payment for their services.
As a locally owned business, T.A.C.T. 48 is usually able to respond to your call and be on-site within an hour, regardless of what time of day or night it is. They are a 24/7 emergency biohazard remediation service that will handle your situation quickly, discreetly, and with compassion and empathy.
In addition to clean up services for suicide, homicide, undiscovered death and accidents, T.A.C.T. 48 also offers hoarding clean up, mold remediation and odor removal services throughout Arizona. To learn more about the services offered, visit https://www.tact48.com/, or call David directly at (928) 723-1332.
Latest news

The Chronicles of T.A.C.T. 48 January
- T.A.C.T. 48 Joined the Arizona Multihousing Association (AMA) Maintenance Mania 2023 - Birthing a baby in the front seat of your car requires proper biohazard remediation to return car to a safe environment
Read More
The Chronicles of T.A.C.T 48 - February
Some highlights of this The Chronicles of T.A.C.T. 48 - February edition: - T.A.C.T. 48 has become a recognized vendor for the City of Scottsdale - T.A.C.T. stands for Trauma And Casualty Team but we our determined to provide Thoughtful and Compassionate Treatment - What is an Adenosine Triphosphate (ATP) test
Read More